This weekend, the Bloc Québécois elected Daniel Paillé as their new federal leader. Paillé replaces former leader Gilles Duceppe, who stepped down after an election-night loss in May. Only 14,000 (or forty percent) of registered Bloc members cast a vote for leader.
In the leadership race, Paillé defeated Bloc MPs Jean-François Fortin and Maria Mourani on the second ballot. Paillé is a trained economist who has spent time as a professor and television commentator, making him well-known across the province. He was elected in a 2009 by-election, but lost his seat this spring's Federal election.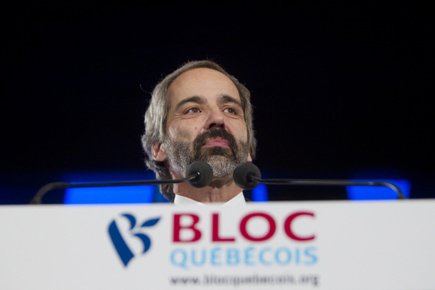 The Bloc also suffered a devastating loss this May, where they dropped to four seats from forty-seven; the party is now in the process of rebuilding. The Bloc are one of three federal parties, alongside the Liberals and NDP, who are changing their leadership after election losses to Prime Minister Stephen Harper's Conservatives. With Paillé's election, the Bloc become of the first of these parties to select a new permanent leader; the Liberals and NDP currently have Bob Rae and Nycole Turmel in interim roles, respectively.
The Bloc is currently the only Quebec separatist party operating on the federal level. Quebec will vote in a general election next year and the fate of the provincial separatists – the Parti Québécois (PQ) – will likely determine whether or not the Bloc can survive federally.
Notably, Toronto Star columnist Chantal Hébert notes that NDP leadership hopeful Brian Topp could end up facing Paillé in a federal by-election contest next year, as they are both without seats in the House of Commons. However, it is more likely that the two would let each other go uncontested in separate ridings to avoid defeat, despite the fierce Bloc/NDP rivalry in Quebec.
To read more about the Bloc leadership race, click here.
Dan
Social Media
About Student Vote
Non-partisan organization engaging young Canadians in the democratic process.

View all posts by Student Vote →