In the 21st century, you would imagine that we could move on from petty sexism in politics. However, as it was proved last month both in Canada and across the ocean in France, it is not yet a forgotten issue.
In mid-July, the French National Assembly convened, and the Minister for Equality of Territories and Housing, Cecile Duflot, rose to speak about a Parisian urban development project.  She wore a blue and white printed dress, with long sleeves; an appropriate summer choice in the world's fashion capital. As she began to read from her prepared notes, a ruckus echoed through the hallowed chambers of government, which lasted the duration of her speech. However it was not heckling, nor was it cheers of support. The sounds, which drew headlines in the days after, was hooting and whistles from the male members of parliament catcalling Madame Duflot.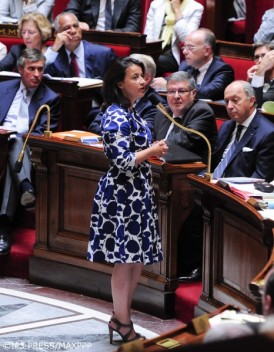 The men involved when asked about it commented that they were "merely showing their appreciation on a warm summer's day." Unfortunately, it is likely that a cabinet minister speaking to her parliament was expecting higher praise than that which she received. Just weeks later, France passed a severe sexual harassment bill, which incurs fines up to €45, 000 and up to three years in jail. However, if the catcalling of Mme. Duflot reflects the attitudes of elected officials in the G8 nation; it will take a lot more work than a bill to improve the equality of woman in France.
On our side of the ocean, attitudes are sometimes no better. An article from the Calgary Herald, just days after the catcalling story broke in France referred to comments exchanged between Premiers Christy Clark and Alison Redford as a "cat fight." The writer acknowledged it was "not politically correct to call it this…" however all the same utilized the cliché, demeaning their valid and vocal differences in opinion on the Enbridge Northern Gateway Pipeline. The use of "cat fight" in the piece is rhetoric that is suggestive that the women are immature, petty, and classless. Moreover, it demeans an issue of national importance, which in this case is the important negotiation for an unprecedented interprovincial resource project.
Using the phrase "cat fight", which historically has a negative connotation towards women could arguably be used for a disagreement between men. In a letter to the editor regarding the article, a reader highlighted the connotation of an emotional reaction, and highlighted that a similar phrase would not be used in a newspaper for men. The fact that the journalist used and thus acknowledged that she used a phrase that is not politically correct (which suggests there is something wrong with it's use) is what truly enrages the reader, as it then became blatantly sexist. As she continues the metaphor, she makes it dramatic and sensationalist when she extracts comments and labels them as "hisses", degrading the women's hard work and their efforts to protect their provinces. As one writer retorted, "If a male Premier were behind it, he would surely be hailed for acting so shrewdly." Displaying this type of language and disrespect in media is a step away from where we, as a nation, should strive to be in the realm of respect for women, and all public figures.
Women who are taking top spots in politics need to be treated in the same was as their male counterparts. In order to support gender equality and balance in all work places, the effort needs to begin at the top. When gender parity is a reality in government and politics, women at all levels of work will have a standard of respect to work towards. It's 2012, and it's time to move forward to a place where women in politics are can stop being defined by clichés and stereotypes of gender, and instead be consistently valued for their contribution to their work place.
Megan (CIVIX Intern)
Social Media
About Student Vote
Non-partisan organization engaging young Canadians in the democratic process.

View all posts by Student Vote →